CEO Loren Howard retires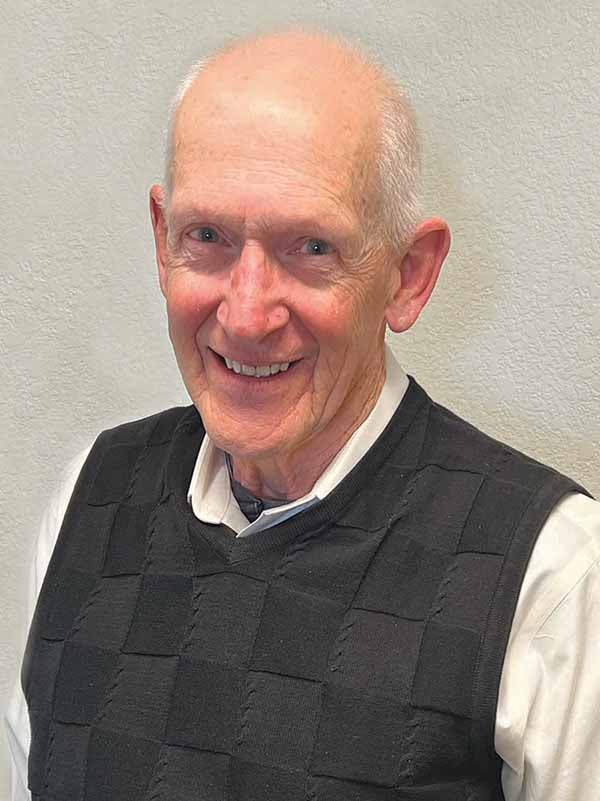 "'Did I do the right thing?' Going home at the end of the day, I ask myself that question. 'Did I do the right thing for our cooperative, the employees and 90 percent of our members?' If I can answer yes to that question, then I sleep well at night," Loren Howard (pictured at right) stated when commenting on his 11 years as CEO of San Luis Valley Rural Electric Cooperative (REC) and Ciello. Loren retires in March, and new CEO Eric Ericksen will take over all duties as Chief Executive Officer on March 13. Loren will stay on board to the end of March to help foster a smooth transition for Eric and REC employees.
Coming to REC from Holland Board of Public Works (Holland, Mich.) in November 2011, Loren was looking forward to having "many new professional challenges and opportunities." He had previously served 22 years in the United States Coast Guard and worked at Packaging Corporation of America, Century Boat Company and Colorado Department of Transportation. Loren earned a Bachelor of Science in Mechanical Engineering and a Master in Business Administration in his many academic pursuits. He is also a registered professional engineer in Colorado.
Loren has seen many industry changes since starting in the business more than 40 years ago. The technical (back-end) of the electric system is completely different, due to wholesale deregulation and the creation of regional transmission organizations (RTO) and independent system operators (ISO). In addition, "renewable energy is transforming the industry; wind and solar are changing where power comes from," he stated.
On a more local level, Loren doesn't see huge changes coming for the electric cooperative. "We're the wires to your house; we're the end-user provider. I don't see the fundamentals of our business changing even with solar on your house and someday the implementation of microgrids. No technology will change the wires and poles to your house. I do think demand will change, but the basics will not."
Throughout Loren's history of being at REC, one of the accomplishments he is most proud of is summed up in one word: Ciello. His pride for REC's broadband division is very evident in the way he talks of it. "I've been around broadband since 1993. When REC's Board of Directors wanted to bring it to the Valley, I said, 'ok, let's go.' We brought someone in to do a feasibility study—marketing, engineering and financials, and everything looked okay. Then we did a second round of market and financial studies, and we went for it," Loren said.
"I would like to think we've changed people's lives here [by bringing fiber broadband Internet to unserved and underserved areas]." He wouldn't have changed a thing along the way. "We didn't wait for grant money. If we did, we'd never be where we are today. We just went and did it."
"In the future, maybe grants will help build out fiber in other areas that are difficult to justify financially, but we did what we needed to do to get the job done at the time, and I'm proud of that," Loren said, "I hope 20 years from now, maybe someone will think, 'I remember Loren Howard; he brought fiber to the Valley.'"
"My best memory of working at REC … every day. There have only been two days since I've been here that I didn't want to come to work. I've loved every other day of the last 11 years," he commented.
So what's next for Loren… "I'm retiring," he laughed. "I've never been good at having fun when I know there's work to do. Can I just play all the time? I struggle with that concept." As a new Monte Vista City Councilor, Loren will be able to keep himself somewhat busy. "I've thought about being on City Council before, but never could commit the time. With my impending demise here at REC, the time is right," Loren commented.
Loren also plans to travel with his wife Karen; they're looking forward to a future trip to Scotland. "As of right now, Karen is excited for me to be home more, but we'll see how that goes. Sometimes you realize you might not want what you asked for," he chuckled.
In addition, his two children have been asking him for years: "when are you going to retire and come visit us more?" That's definitely in his plans as well— visiting his daughter Rebecca and her husband James in Denver and his son Micah and his wife Kendra in Washington D.C., as well as his eight grandchildren.
Additionally, Loren will find more time for his hobbies: rebuilding jeeps, amateur radio, hiking and rock climbing, and he might even try to finish getting his private pilot license. The San Luis Valley has been the perfect home for Loren and his wife. "Anywhere above tree line is literally my heaven on earth. When we moved here in 2011, we were 228 miles away from my son and his family and 228 miles from my daughter and her family. It's the perfect place to be," Loren said.
"I am enormously grateful for being a part of REC. I love working for the members and customers of REC and Ciello. The employees here are the best I have ever had a chance to work with. It's a great organization with few struggles; this makes it hard to walk away. My heart will always be with REC and Ciello, and I've told the board and the employees several times, 'if you ever need me for any reason, I'll be there,'" Loren concluded.
There may have been a few stumbles along the way, but Loren spent the past 11 years working alongside the employees to make REC and Ciello what it is today. When Loren finishes up at the end of March, he can be assured that the difficult decisions he has made put REC and Ciello in the right place for the future.
__________________________________________________________________
 
REC received nearly $2 million for high-speed Internet access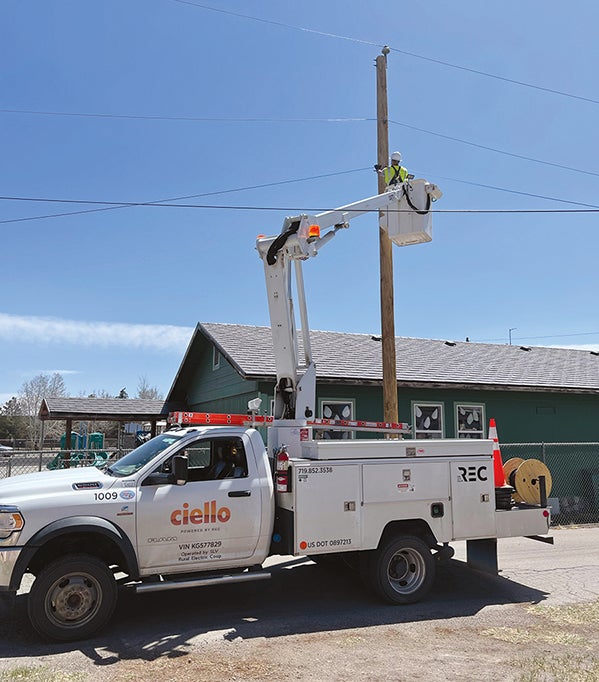 In late July 2022 San Luis Valley Rural Electric Cooperative (REC) was announced as the recipient of a $1,998,448 grant to deploy fiber-to-the-premises services in rural parts of the San Luis Valley.
U.S. Department of Agriculture (USDA) Secretary Tom Vilsack announced that the Department is investing $401 million to provide access to high-speed Internet for 31,000 rural residents and businesses in 11 states, part of the Biden-Harris Administration's commitment to investing in rural infrastructure and affordable high-speed Internet for all. This announcement includes a group of investments from the ReConnect Program and an award funded through USDA's Telecommunications Infrastructure Loan and Loan Guarantee program.
REC's subsidiary, Ciello, will use the grant to connect 129 residences, eight businesses, one public school and 20 farms to high-speed Internet in unserved and underserved parts of Conejos and Alamosa counties.
"We began providing high-speed fiber optic based broadband internet access to rural areas in the San Luis Valley in 2014," said Loren Howard, CEO of REC/Ciello. "This grant, the second Ciello has received, accelerates Ciello's commitment to bring this crucial utility service to the Valley residents. REC and Ciello are incredibly grateful for this boost in building our fiber network to difficult-to-serve areas."
"Connectivity is critical to economic success in rural America," Vilsack said. "The Internet is vital to our growth and continues to act as a catalyst for our prosperity. From the farm to the school, from households to international markets, connectivity drives positive change in our communities."
"The investments I am announcing will help 31,000 people and businesses in large and diverse regions across the country access to new and critical opportunities. Under the leadership of President Biden and Vice President Harris, USDA knows rural America is America's backbone, and prosperity here means prosperity for all."
"Living in the San Luis Valley, I know the need of reliable Internet access and being able to engage in remote work, telehealth, e-commerce, and online schooling," said Armando Valdez, USDA Rural Development Colorado State Director. "Internet service strengthens community prosperity by providing connections to a vast number of resources and potential markets.
"This grant will change lives and provide quality enhancements to our telecommunication infrastructure in a strong rural community in southern Colorado. I am grateful that SLVREC pursued this opportunity. And I am so happy that residents in Conejos and Alamosa counties will be able to tap into these resources and thrive both economically and socially."
As a provider for the Federal Communications Commission's Affordable Connectivity Program, Ciello will serve these socially vulnerable areas in Conejos and Alamosa counties. REC members that live in the Zapata area, along with some REC members along Highway 15 in Conejos County, will experience a lot of benefits from the availability of high-speed fiber broadband service in their areas. 
"We are very grateful to have been awarded these funds from the Reconnect3 program," said Ciello's Chief Technology Officer Monroe Johnson. "This is the culmination of a lot of hard work on the part of the management team here at the cooperative, and we look forward to working with everyone involved to bring this project to a successful conclusion."
"Ciello's mission is to bring the best broadband service available anywhere to the communities we serve, and this is a logical extension to all the work that has been completed in the last several years."
__________________________________________________________________

Ciello featured on MV Chamber podcast
As the Monte Vista Chamber's April Business of the Month, Ciello was featured in a recent podcast. SLVoices' Adam Locke sat down with SLVREC/Ciello CEO Loren Howard (pictured below) to learn all about our vision, mission, services and much more. Check it out here!
Thanks to SLVoices and the Monte Vista Chamber of Commerce for featuring Ciello!